Operational Excellence
July 10, 2023
Becoming an electric lineworker takes skill and commitment
On Lineworker Appreciation Day, we celebrate the crews on the other side of the light switch

If you've ever lost power unexpectedly, you know the sinking feeling when the lights go dark, the television turns off and the house gets quiet. But on the other side of that light switch, Xcel Energy employees spring into action, relying on their years of training and experience to safely restore power to customers. A sense of pride in their abilities underlies the work they do, as well as respect for the importance of electricity as a cornerstone of our civilization.
Each year on July 10, in partnership with our union partners at the International Brotherhood of Electrical Workers (IBEW), we celebrate Lineworker Appreciation Day, honoring the work of everyone working "along the line." We take this opportunity to recognize the years of training required and the important role lineworkers play in our communities, sometimes answering the call to serve outside of their everyday job duties.
"My family tells me I'm a servant at heart," said Shea "Chili" Bramlet, who has been doing line work for 27 years. "When I'm working to restore power after tragedy strikes, I know I'm not just restoring power, but I'm helping people get their lives back together and move forward. That makes me feel proud."
Bramlet, who got the nickname "Chili Willie" from his partners in the field because he wears a red bandana every day like Willie Nelson, serves Xcel Energy customers in Texas. But he's stepped up to help out all over the United States. "I've been through a lot of storms, all the way over to Florida and up north to New York. In all those weather conditions, when people retreat inside, we go outside and get to work. Not everyone wants to do that. It takes a lot of dedication to the work."
His job has also allowed him to participate in lineworkers rodeos, including the International Rodeo in Kansas City. "I can't really put into words how much the rodeos mean to me," he said. "I've been on the same team for years, and it's like family to me."
The theme of family runs deep within the trade. Joe Ihry, who is in the final step of his apprenticeship to become a lineworker, wound up in the apprenticeship program alongside his brother, but he said everyone in the program feels like family. "As I've been learning, I've appreciated the support and patience. When you're working with electricity, your crew doesn't want to see you fail."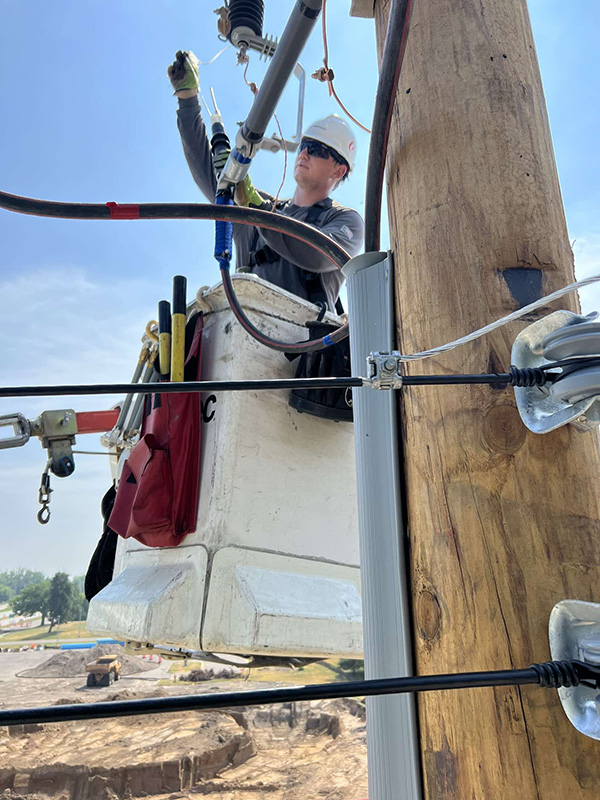 Lineworker Apprentice, Joe Ihry, works on a de-energized line as part of new construction.
Ihry, based in Minnesota, was motivated to become a lineworker when he realized college wasn't for him and he wanted to do something else. Growing up on a farm in North Dakota, he knew early in life the value of working with his hands. "I feel proud when I'm maintaining and building power lines because I can see directly what I did with my hands. That motivates me to serve our customers."
Our lineworkers serve our customers and communities not just in a work capacity, but in everyday life. Earlier this year, a lineworker in Colorado, Kamil Wawryniecki, moved a vehicle stuck on the light rail tracks in Denver when the cross arms started to lower. "The train must have missed the driver by a couple feet," said Wawryniecki. Because of his quick action he saved not only the life of the driver, but also all the passengers who could have been harmed on the light rail.
As a company, Xcel Energy honors the years of training, the deep set of skills and the profound dedication of the lineworkers behind the light switch.