Community Commitment
June 22, 2023
After Texas tornado, Xcel Energy crews join community response
Texans come together to restore power, lend a hand in search and rescue

A series of devastating severe weather events in Texas and New Mexico in the last few weeks brought Xcel Energy's crews and the communities they serve together to respond to the significant damage and support people who were impacted. Xcel Energy is grateful to everyone in these communities for all the ways they supported power crews as they worked to get the lights back on safely.
The string of severe weather that caused major damage in a span of just over three weeks began in late May with flooding and a tornado that downed 20 poles on the transmission line that powered Tucumcari, New Mexico. Tornadic activity just outside Hobbs followed, causing significant damage to our Cunningham Generating Station's cooling tower. Then, a week of heavy rain led to flooding in Amarillo, forcing businesses to close and residents to seek temporary shelter. At the end of this relentless span of events, the evening of June 15, a deadly tornado ripped through Perryton in the northern Texas Panhandle, destroying the heart of the rural town of about 8,200 people, known as the "Wheatheart of the Nation"

and as the home of beloved children's book character, Hank the Cowdog.
Estimates say the tornado was on the ground for 11 minutes, touching down at 5:06 p.m. to the northwest of Perryton, leaving a path of destruction as it traveled southeast. The EF3 tornado tragically took three lives and injured more than 100. About 200 customers lost their homes and businesses.
The entire town was without power that evening as Xcel Energy crews went to work, coordinating with local officials, emergency managers and first responders, and getting equipment and crews in place to begin restoring power. Residents and businesses worked together with our crews in an inspiring demonstration of community. With one of three transmission lines powering the town down, Seaboard Foods, one of the largest commercial customers in the area, agreed to use generators, and nearby farmers agreed to curtail their irrigation so there would be enough electricity available to power the customers being restored in Perryton, which included a hospital, nursing home, gas station and grocery store.
As Xcel Energy crews assisted emergency teams with search and rescue, neighbors began helping neighbors with clean up; soon, people came from other communities and even bordering states to help with food and labor. One story from the night of June 15 shortly after the tornado hit, from Sam Reese in Xcel Energy community relations, exemplified the region's spirit.

"I spoke with the crews in Perryton over the phone, and they were hungry. It was very late, and it was a lot of food I was requesting. I went to the Sonic in Borger and they said they didn't have enough burgers to fill the order. I explained that it was for Xcel Energy crews working in Perryton.

"They fired back up the fryers and started working at a feverish pace. Soon, I noticed that cars were showing up, employees were showing up, going into the kitchen and getting to work," Reese said.
"These Sonic employees could have turned me away. It was 15 minutes before quitting time, and they didn't have the food I requested. Instead, they called in help and figured out what options were available and sent me off with enough food to keep the crews in Perryton going for the night. They did this with the mobility, enthusiasm and efficiency of one of our line crews taking a call-out to restore power in the middle of the night."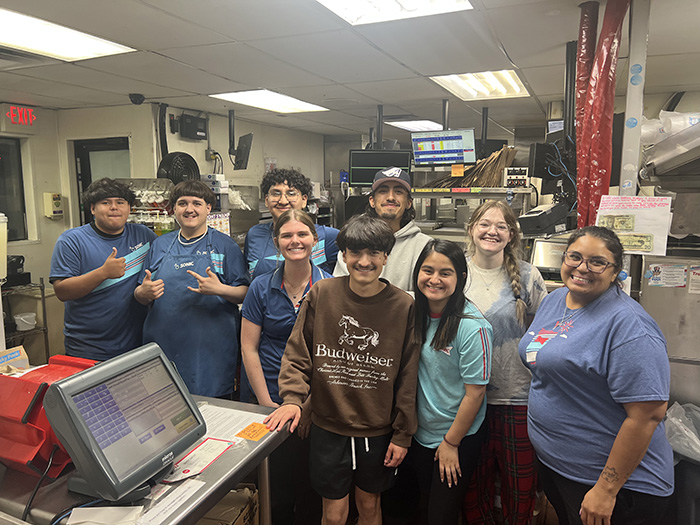 The Borger Sonic crew from left: Adrian Nunez, Alijiah Ellis, Noah Medina, Alyssa Frost, Noah Esqueda, Royal Duran, Elaine Garcia, Lillie Bennett, Valerie Lopez
Xcel Energy is incredibly grateful to the entire Perryton community for the ways they supported our crews – and for their incredible patience.
We know the rebuilding process for many will be long and difficult.

While we understand it's only one gesture out of many that will be needed, the Xcel Energy Foundation has committed a donation of $50,000
—
$25,000 to the Amarillo Area Foundation in support of the Panhandle Natural Disaster Fund and $25,000 to the United Way of Amarillo & Canyon, supporting Texas 211 Call Center aid.



If you want to help the Perryton community, you can make an impact by visiting the Amarillo Area Foundation or American Red Cross website to donate. The Texas Panhandle Volunteer Organizations Active in Disaster also has set up an account at FirstBank Southwest for monetary donations.