Environmental Leadership
November 7, 2022
Minnesota plant goes boom as transition to cleaner energy marches on

A shuttered power plant in western Minnesota recently dropped to the ground with the help of professionals, ending nearly a century as a landmark in the region. On Oct. 27, the plant and its two tall towers were imploded in an event captured on video here.
Xcel Energy's Minnesota Valley Generating Plant in Granite Falls dated back to the 1930s. Xcel Energy closed the coal-fired Minnesota Valley plant in 2009 amid its ongoing move to cleaner energy sources.
For decades, it provided power for a wide swath of the state, as well as serving as a symbol of the city. Granite Falls' high school teams were long known as the Kilowatts – a nod to the towering power plant that was built along the Minnesota River on the east side of town. As well, an amateur baseball team in the city still carries the Kilowatts name.
Xcel Energy contracted with the company Veit to implode the remains of the facility. Veit placed explosive charges on select support structures of the plant, designed to bring the building safely to the ground upon detonation. Prior to the implosion, Xcel Energy crews surveyed the facility for hazardous materials.
A pre-demolition, regulated-materials survey was taken of the plant to identify the asbestos, chemical and electronic waste present in the building. Xcel Energy's Special Construction workforce oversaw the cleanup and work to remove these hazardous materials to ensure safe, environmental practices are met as the site is restored to a vegetated area.
Xcel Energy now will clean up and recycle the concrete, bricks and metals from the plant's structure, including iron, steel, copper, aluminum and brass. The company will retain much of the site and the area will be backfilled, graded and seeded for restoration to a vegetated area. And the company's Minnesota Valley substations will continue to serve as a critical energy hub for the electric grid.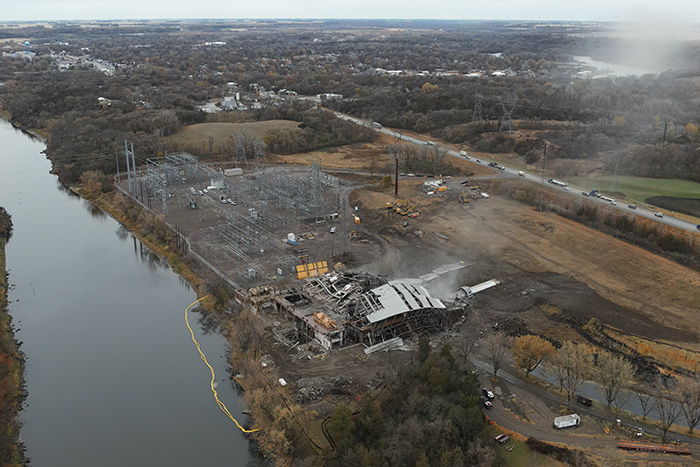 The Minnesota Valley Power Plant in Granite Falls after its Oct. 27 demolition.