Environmental Leadership
October 25, 2022
Bringing energy career opportunities to more communities

As Xcel Energy continues its clean energy transition – with a goal of 100% carbon-free energy by 2050 – a major factor in the success of that transition is the company's commitment to hire a diverse workforce dedicated to innovative solutions that is reflective of the communities it serves.
Company talent comes from individuals at many different points in their careers – from high school and college students to recent graduates, military veterans, and on through to mid- and late-career professionals. With October designated as National Energy Awareness Month and Careers in Energy Month in Minnesota, here is a look at some of Xcel Energy's efforts to bring careers in the energy field to more communities.
Minnesota schools receive $400,000 in scholarships
The company's commitment to creating STEM (science, technology, engineering, math) career pathways for students continues to grow. Six Minnesota colleges recently received $400,000 in scholarship funds from the company-coordinated Conservation Improvement Plan (CIP) Grant.
In addition to supporting income-qualified communities, as well as communities disproportionally impacted by energy costs, Xcel Energy hopes the grants will recruit and educate students who are historically and currently underrepresented in the energy efficiency sector.
"One of the Xcel Energy Foundation's main focus areas is to support STEM career pathways for people of color and women," said Sam Holsen, manager of Social Investments for Minnesota, North Dakota and South Dakota. "With 40 percent of the company's workforce eligible to retire over the next 10 years, and to achieve our 100% carbon-free strategy by 2050, it's imperative to invest in the next generation of STEM learners."
The scholarships prioritize applicants residing in Minneapolis's Green Zones (neighborhoods that face combined impacts of environmental pollution and racial, political and economic marginalization); Saint Paul's Areas of Concentrated Poverty (where 50% or more of the residents are people of color); and areas in rural Minnesota located in the Xcel Energy service territory. Courses of study may include building management, energy efficiency, HVAC or similar energy efficiency related topics.
"Xcel Energy is aware of the educational disparities that exist in the communities we serve," said Sofia Troutman, a product portfolio manager who has helped lead the CIP grant program. "Financial barriers can be one of a few reasons why an individual decides not to pursue a degree or certification.
"This investment will provide scholarship support to hundreds of students in our service territory who identify as low-income," she added. "We have also grown our partnership with these schools, strengthening the Xcel Energy brand to encourage students to pursue careers here."
Learn more about the company's focus on STEM Career Pathways on at Xcel Energy's website.
Lineworkers bring diversity and commitment to powering communities
Xcel Energy is partnering with Minnesota State Community and Technical College and other area utility companies in support of the Energy Careers Academy, a technical degree program to train individuals to become electrical lineworkers and natural gas construction and service workers. The programs range from six to nine months, and graduates have opportunities to interview for jobs with Minnesota area utilities sponsoring the program, such as Xcel Energy.
The programs are designed for a diverse, urban student population, removing a potential geographical barrier, as energy-related educational programs are often offered at technical schools in rural communities outside of areas with the most diverse populations. Enrollment in the academy is targeted to students who live within the seven-county Twin Cities metro area.
"The Energy Careers Academy is helping train and support the next generation of energy workers and leaders at Xcel Energy and across Minnesota," said Chris Clark, president of Xcel Energy – Minnesota, North Dakota and South Dakota. "Developing and retaining a diverse workforce is important to us, and we're pleased that this program will remove barriers and provide access for more individuals interested in electric line and gas utility work."
Minnesota State Community and Technical College provides course curriculum, accreditation and instructors for the academy, as well as student support and career prep services. Xcel Energy provides the training facilities, equipment and other training, in addition to connecting participants with current Xcel Energy employees and leaders who hire for the positions they are working toward.
Career Launch program provides pathways
Xcel Energy's Career Launch program is about to graduate its first cohort of candidates. The program provides an avenue for professionals starting their career to build skills to meet business challenges.
Participants in the Career Launch program join the company as analysts to gain hands-on experience toward a variety of career paths, while also learning the tools needed to help navigate their futures at the company. Analysts can select their rotations from more than 40 options that best align with their career goals.
The program is designed to support the development of analysts into strong, capable leaders with the skills and guidance to jumpstart a promising career trajectory at Xcel Energy upon successful completion. Candidates are recruited from a diverse set of perspectives, backgrounds, education and experiences to strengthen Xcel Energy's role in leading the clean energy transition.
"My goal after graduation was to find a full-time position with Xcel Energy because I loved the culture that surrounded me and the opportunities for growth," said program participant Junior Lor. "In my first rotation with Infrastructure Network Project Delivery, I was able to develop strong project-management and change-management skills. The Career Launch program has provided diverse experiences, and I've developed fruitful relationships with many colleagues around the company."
Visit the Xcel Energy Careers site and search "Career Launch Program" for open positions.
Interns bring added energy to the workplace
Xcel Energy's ongoing successful summer internship program this year included more than 20 high school interns and 268 college interns – 37 of which converted to regular employment at Xcel Energy. The company works alongside organizations like Right Track, Step Up and Denver Public Schools to provide employment experience for high schoolers in areas like information technology, human resources, supply chain, engineering and account management.
"We were especially excited about the number of high school interns we had on board this year," said Gabriel Ijjo, the high school internship program's manager. "We're seeing a notable increase in opportunities post-pandemic for both college and high school students, as well as a more diverse group of interns, and we hope to see even more opportunities in coming years."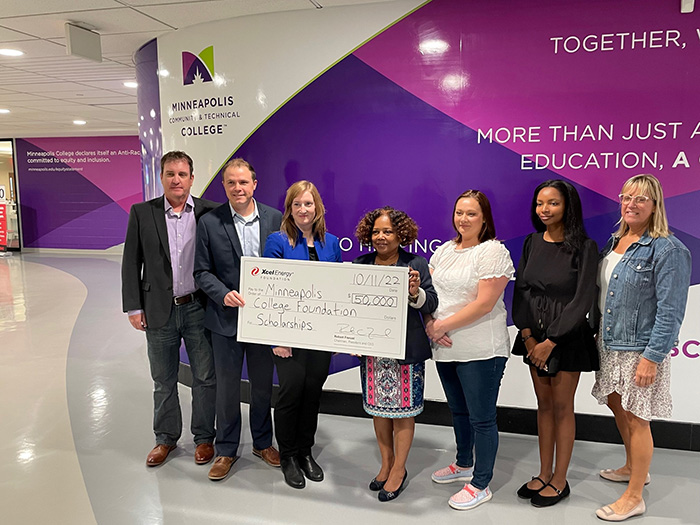 Pictured above is an Xcel Energy check-presentation ceremony at Minneapolis Community and Technical College.
Included are (left to right) Pete Mathieson, Xcel Energy board member; Sam Holsen, manager of Social Investments/
Xcel Energy; Suzanne Murphy, senior manager of Community Relations/Xcel Energy; Sharon Pierce, president of the
college; Cherie Trinka, scholarship recipient; Tatiana Schaer, scholarship recipient; and Beverly Wadsworth, president
of the college's foundation.