Community Commitment
October 18, 2022
Lineworker's running career includes finishing all 40 Twin Cities Marathons

It started with a $100 bet. A friend wagered Scott Knight, a non-runner at the time, that he couldn't finish a marathon.
Knight won that bet. And that first marathon – in the middle of the Minnesota winter, no less – put the Xcel Energy lineworker on a path of long-distance running that now spans more than 40 years.
A proud resident of the state, Knight also has now run and finished every Twin Cities Marathon over those four decades, from the inaugural race in 1982 through the 40th edition in early October this year. The marathon, one of the 10 largest in the United States, has only a dozen runners who have finished every race. Knight is the youngest of that group at age 61.
Of the 165 marathons that Knight has run – in locales varying from Arizona and California to Minnesota and Illinois – the Twin Cities version has always been his favorite.
"It's nearby and has a lot of fan support," he said. "And the leaves are usually at their peak. Plus, now I feel obligated to keep up with the other charter members. I'm amazed at them, actually."
His goal is always to just finish the race in under the six-hour time limit. He's finished in three hours some years and at just under six hours in other races. Some years Knight has followed up the Minnesota race by running the Chicago Marathon the very next weekend.
For the Twin Cities Marathon, his favorite part, not surprisingly, is the last mile after runners turn a corner and see the state capitol. He said he gets chills seeing the fire trucks sporting flags and all the fans as the finish approaches.
"The ending is the test, and you always have to muscle through the wall, which everyone hits," he said of the notorious 20-mile mark for marathon runners. "When you hit that mark, your body and mind can do strange things. It can be a real challenge to work through, but it's all about finishing."
Long-distance running has helped with many parts of his life over the years, Knight said. He calls it a form of meditation that can help with life's stresses.
"With what I've gone through and learned from running over the years, I can better handle situations at work and in my personal life," he said.
He's also helped plenty of newbies prepare for their first marathons, passing along what he's learned over the years.
And safety has been another surprising element he's encountered through his running career. It's similar to some of the road conditions he faces in his job as a lineworker, out in the field working on the electric system. In both running and linework, you always have to be mindful of vehicles and road hazards, he said.
Although running has been a key part of his life for decades now, Knight says not everyone needs to be a runner to benefit from exercise.
"Just a little bit of any kind of exercise on a regular basis can keep you in check, help you make good decisions and better manage challenges in life," he said.
And doing that won't even require a $100 bet and 26.2 miles of running.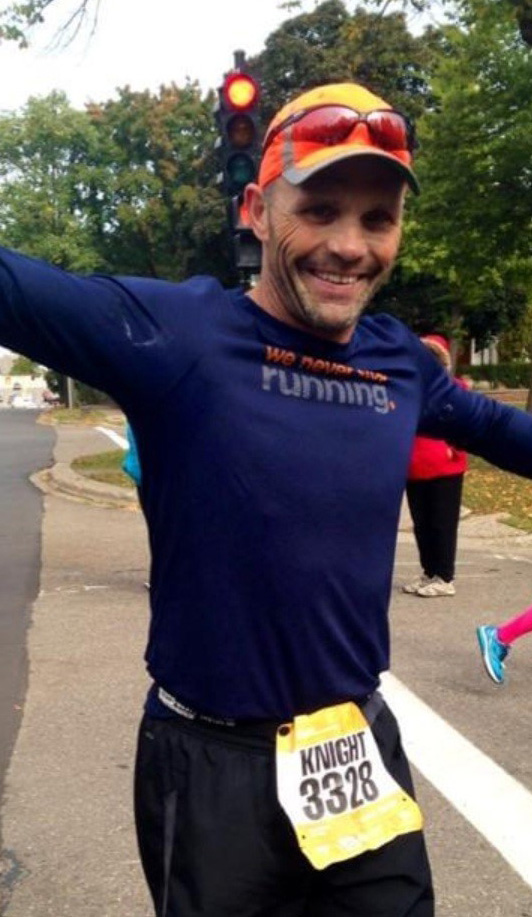 Scott Knight during one of his many races.