Environmental Leadership
August 23, 2022
Colorado Clean Energy Plan leads the way

Xcel Energy's Colorado Clean Energy Plan is leading the nation, cutting carbon emissions by at least 85% from the electricity provided to customers by 2030 compared to 2005. By closing coal plants and adding even more wind and solar, about 80% of customers' electricity by 2030 will come from renewables.
The plan accelerates the state's carbon emission reductions while ensuring reliability and affordability for customers and helping communities that are home to coal plants make a successful transition. It also moves the company closer to its vision to provide 100% carbon-free electricity to customers by 2050. Xcel Energy already has reduced carbon emissions by about 47% from the electricity provided to customers in Colorado. The plan will achieve the state's environmental goals while assuring reliability through a diversified energy mix.
Key elements of the plan include:
End

ing

the company's

use of coal in the state by 2031 by retiring coal plants ahead of schedule

or

converting

them

to natural gas.

Add

ing

more

renewables

to the grid

, including an estimated 2,400 megawatts of wind and 2,800

megawatts

of solar, with exact amounts to be determined through future bidding processes.

Ensuring

reliability in all seasons and

weather

conditions with flexible

energy sources c

apable of operating when renewables aren't available.

Ensur

ing

reliability in all seasons and

weather

conditions with flexible

energy sources c

apable of operating when renewables aren't available.

Build

ing

on

successful customer energy-efficiency programs, distributed

-

generation

opportunities

and new demand

-

response options to manage energy load.
To accelerate the end of coal use at Colorado power plants, Comanche Unit 3 in Pueblo will close by 2031, decades earlier than initially planned, and will begin reduced operations in 2025. Comanche Units 1 and 2 are scheduled to retire by 2025. The Hayden Generating Station's two coal-fired units in northwest Colorado will close years earlier than planned in 2027 and 2028. And the Pawnee Generating Station in Brush will be converted from coal to natural gas by 2026 or earlier.
With significant amounts of new wind and solar energy coming onto the power grid, natural gas will continue to be used to balance the system and provide backup for these intermittent power sources. The company also will pursue new technologies to help meet its long-term carbon-reduction goals, including battery storage or new "always available" energy sources in the future.
Also key to the clean energy transition is Colorado's Power Pathway project – a major upgrade to the state's high-voltage transmission system. The project will bring more renewable energy onto the grid; improve the reliability, flexibility and resilience of the electric system; and provide economic and clean energy development opportunities for customers and communities.  
Keeping bills low and ensuring reliability will remain a top priority. Today, the company's residential customers in Colorado have average bills that are among the lowest 10% in the nation.
Throughout its industry-leading clean energy transition, Xcel Energy is committed to helping its employees and the communities where coal plants are located. The company does not anticipate layoffs as it closes its coal plants and will work to retrain employees for new positions. The company also will extend property tax payments in the communities that are home to coal plants in the coming years, while also working with the communities to find other ways to make the transition a success.
How Xcel Energy will reduce carbon emissions by 85% by 2030 and ensure reliable, affordable electric service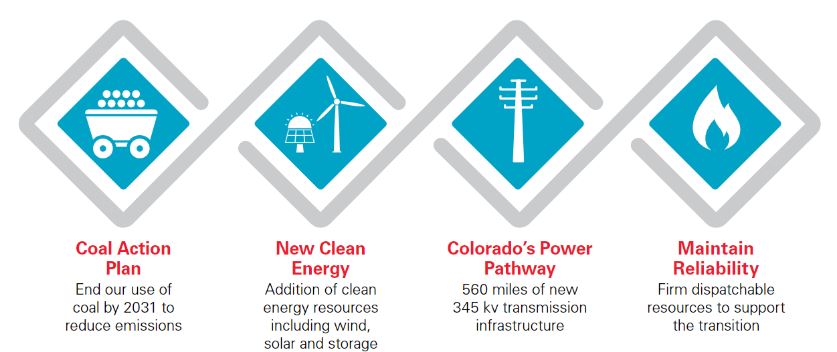 A cleaner energy mix