Environmental Leadership
August 25, 2022
Building a clean energy future in the Upper Midwest

From closing coal plants and adding more wind and solar, to continuing to use carbon-free nuclear energy, Xcel Energy's Upper Midwest Energy Plan is a roadmap to a cleaner energy future for the region. The company's plan will continue its nation-leading carbon reductions while ensuring reliable, affordable service on the way to achieving its vision to provide all customers with 100% carbon-free electricity by 2050.
The plan will lead to an 85% reduction in carbon emissions from the electricity provided to customers by 2030 compared to 2005. More than 80% of customers' electricity will come from carbon-free sources by the end of the decade, with more than half coming from wind and solar. The company's Upper Midwest system serves customers in Minnesota, Wisconsin, North Dakota, South Dakota and Michigan.
The elements of the plan all work together to achieve the company's aggressive clean energy targets while
ensuring reliability and affordability for customers. Key elements of the plan include:
Retiring

all

of

the company's

Upper Midwest coal plants by 2030.

Dramatically increasing wind and solar energy, building 2,150 megawatts of new wind and 2,500

megawatts

of new solar by 2032. The plan also includes

the

addition

of

approximately 1,100

megawatts

of renewables beyond 2032.

Ensuring reliable, affordable energy by extending the generation of carbon-free nuclear energy at the Monticello plant an additional 10 years to 2040.

Building on successful energy efficiency programs to help customers save energy and money

, as well as

working with customers on new demand

-

response options to manage energy load.
"This plan demonstrates the significant strides we're making to deliver a clean energy future," said Bob Frenzel, chairman, president and CEO of Xcel Energy. "As a longtime national leader in wind energy, we look forward to expanding our renewable energy resources and what we can accomplish on our way to achieving 100% carbon-free electricity by 2050."
The plan also includes new transmission infrastructure that will connect more clean energy to the grid, re-using important grid connections near existing coal plants as they close and helping ensure reliable service for customers.
Xcel Energy has already reduced carbon emissions by 50% from the electricity provided to customers in the Upper Midwest. As more renewables are added to the mix, natural gas and carbon-free nuclear energy will help ensure customers' needs are met around the clock and in all weather conditions. The company will also work with stakeholders to seek approval for additional "always available" power sources later this decade to help backup wind and solar and maintain grid stability and reliability while further reducing carbon emissions.
As the use of coal is phased out, the company is committed to helping employees and the communities where coal plants are located make the transition. Employees at those plants have played a vital role over many decades in powering the region for customers and communities, and the company plans to make the transition without layoffs, in part through retraining employees for new positions. It is also working with local communities to bring new jobs and capital investments to these areas.
How Xcel Energy will reduce carbon emissions by 85% by 2030 and ensure reliable, affordable electric service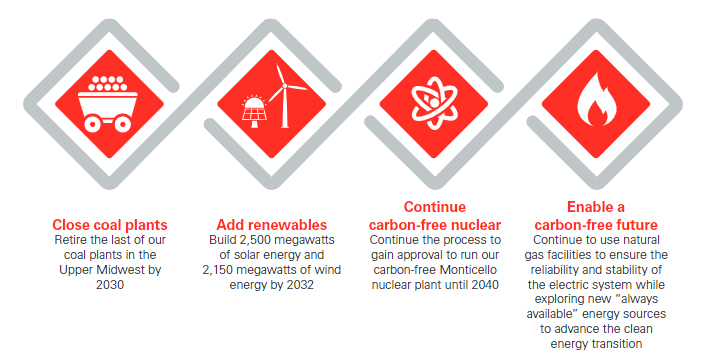 A cleaner energy mix