Environmental Leadership
June 8, 2023
Powering federal facilities with 100% carbon-free energy by 2030
Xcel Energy and federal government join forces in Colorado, Upper Midwest for clean energy goals

Xcel Energy has signed agreements with federal agencies to power government facilities across Colorado and the Upper Midwest with 100% carbon-free energy by 2030. It's a move by both parties to lead by example and explore the next generation of carbon-free energy offerings.
Our company recently signed memorandums of understanding with both the U.S. General Services Administration and Department of Energy to provide zero-carbon electricity to federal facilities served by Xcel Energy in Colorado, Minnesota, Michigan, North Dakota, South Dakota and Wisconsin.
"Xcel Energy was the first major U.S. power company to present the vision of delivering 100% carbon-free electricity across the grid," said Bob Frenzel, chairman, president and CEO of Xcel Energy. "As we forge ahead in the clean energy transition, our collaboration with GSA demonstrates how we can provide innovative solutions to help our customers reduce their carbon footprint and meet their sustainability goals."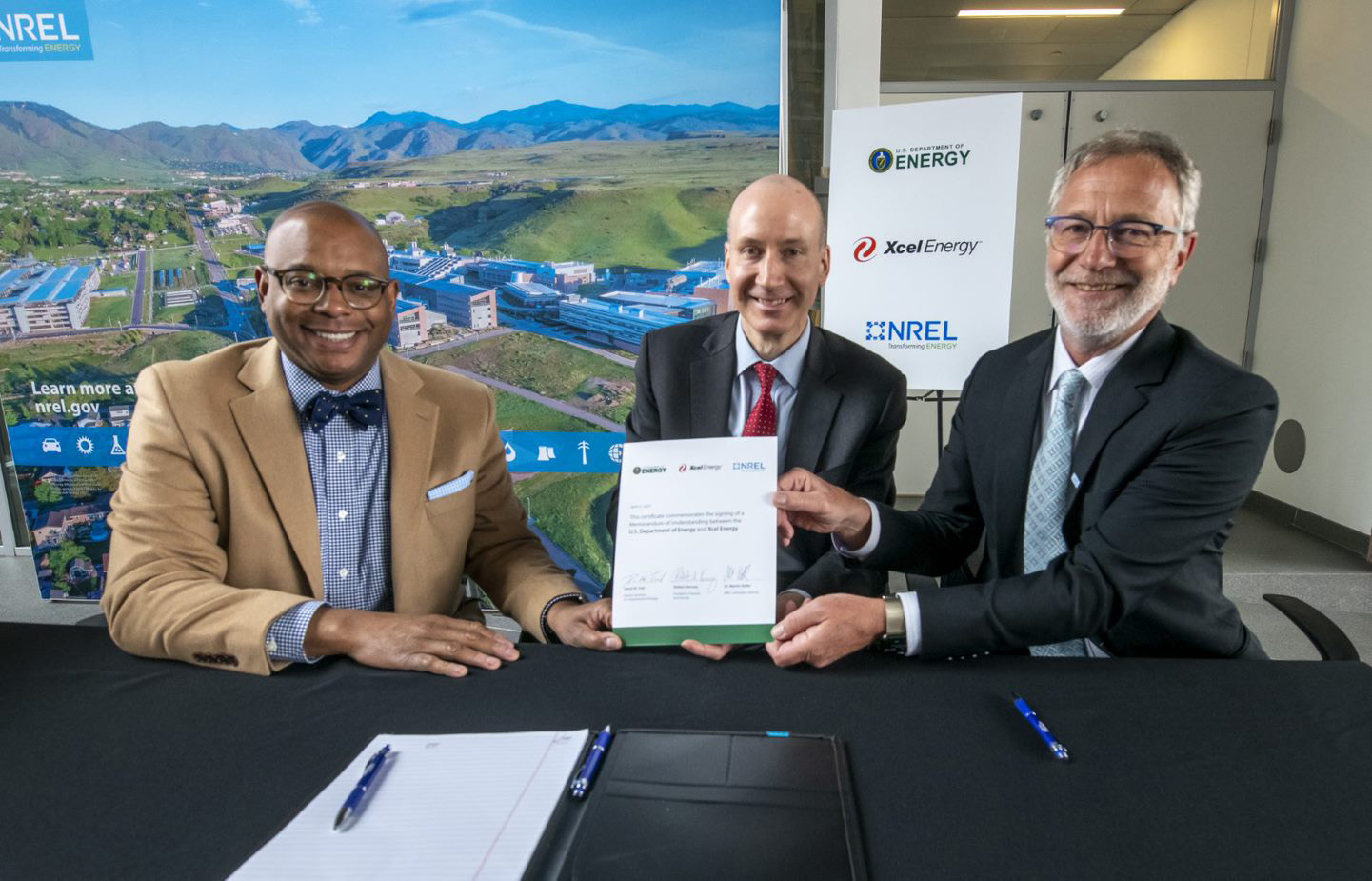 Robert S. Kenney, President, Xcel Energy - Colorado (left) with David Turk of the Department of Energy and Dr. Martin Keller of NREL.
The next step in the agreement is to work jointly on developing a plan that aims to:
Build a roadmap for the

f

ederal government's electricity needs in our

Colorado and Upper Midwest service areas.

Ensure the electricity is 100% attributable to carbon-free

sources

on an annual basis by 2030.

Meet these goals while

maintaining

or improving the affordability,

reliability

and resilience of the electric power system.
Company-wide, Xcel Energy's energy mix in 2022 was more than 50% carbon free, and we plan to continue expanding the availability of economic renewable and carbon-free generation sources for customers through our current clean energy plans as well as this initiative. We also will develop a system that allows us to track our carbon-free generation and procurement of energy to match the energy use of government facilities on an hourly basis.
Xcel Energy currently offers customers some of the longest running, most successful renewable energy options in our industry. This effort can take those programs to the next level. While this agreement is specifically for federal facilities, the effort will serve as a model for product offerings that can benefit other large business and industrial customers interested in achieving their own sustainability goals and tracking their clean energy usage at a more detailed level.