Community Commitment
June 7, 2023
Our employees share what Pride Month means to them
Xcel Energy is proud to celebrate Pride in our communities

Xcel Energy employees are again joining their local communities this June to celebrate Pride Month, a time in which cities around the world support lesbian, gay, bisexual, transgender and queer (LGBTQ) rights with festivals, events and other gatherings. The month is commemorated to honor the 1969 Stonewall Uprising, a series of demonstrations against a police raid that marked a turning point in the pursuit of and support for those rights in the United States. The event promotes the dignity, equality and increased visibility of LGBTQ people.
Although June is a time when employees and others in the United States and other countries focus on Pride celebrations, Xcel Energy works year-round to foster and improve a culture of inclusivity. We know that the best talent thrives and the strongest contributions are made when every employee is invited to bring their whole selves to work. Last year, we received our sixth consecutive perfect score on the Human Rights Campaign's annual Corporate Equality Index and were again cited as a Best Place to Work for LGBTQ equality. The Index measures policies and practices related to lesbian, gay, bisexual, transgender, queer and other sexual minorities workplace equality.
This year, we asked employees in our Pride Alliance networking and advocacy group to share what the month means to them.
"To me, Pride Month is a time of celebration of queer culture and love and diversity," said Annette, a technology support specialist. "It is a time for my friends and I to go out and show our pride in ourselves and our community." Annette looks forward to advocating for continued efforts supporting inclusivity at the company, including expanded adoption of the use of employees' correct pronouns and hiring of LGBTQ employees.
Jeanne, a customer service representative, shared that she's a proud ally. With a trans daughter who came out in high school, Jeanne had a personal connection to build on by joining a local LGBT Center in Wisconsin, where she's volunteered for nearly seven years. "I'm excited to see the strides Xcel Energy has made in both welcoming and supporting the employees on the LGBTQ+ spectrum. I hope we will continue to move forward with these efforts and I'm proud to say we are an inclusive employer," said Jeanne. "It makes us a much stronger workforce. I love to see the diversity we continue to display."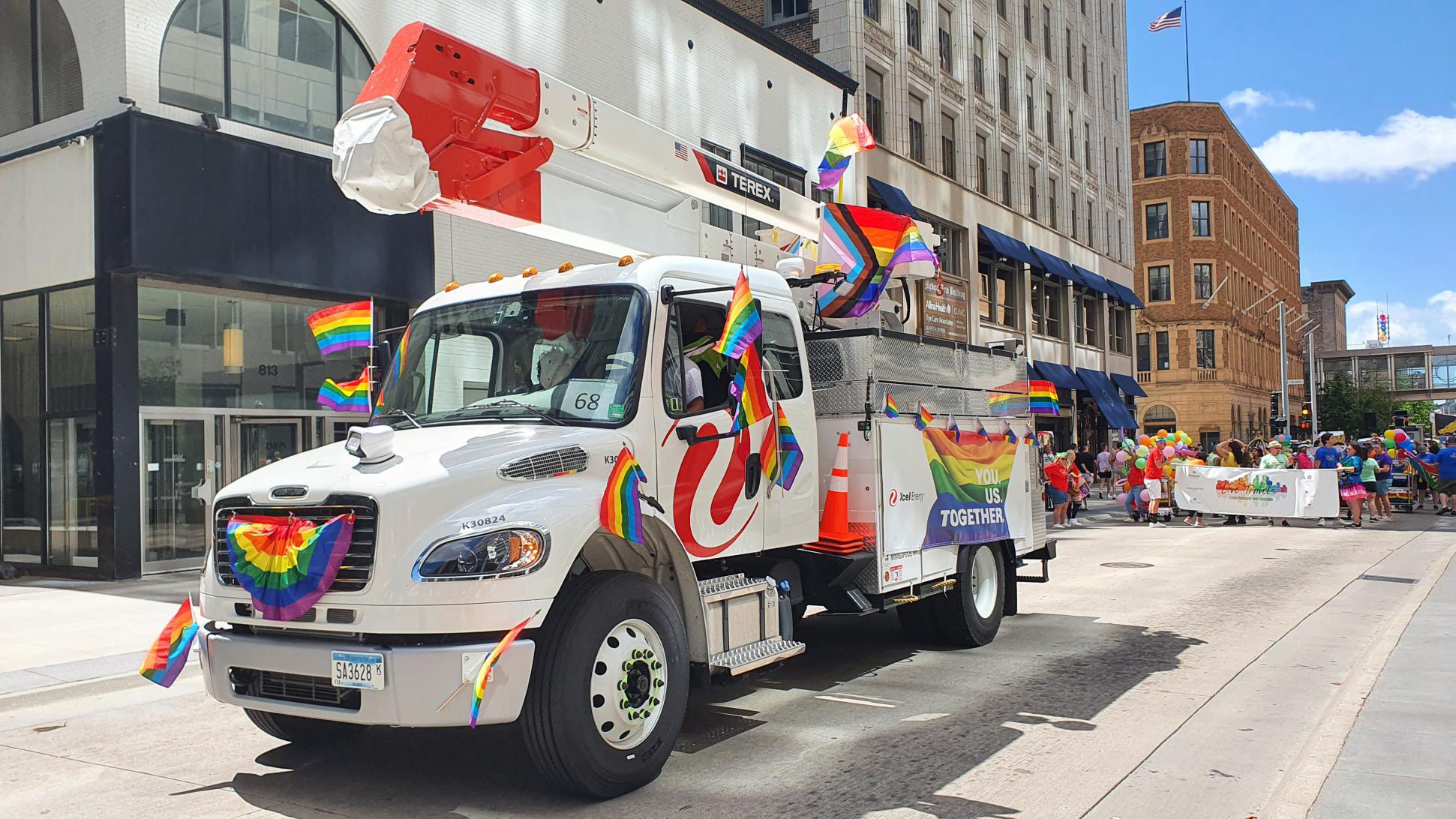 An Xcel Energy fleet truck dressed up for the Minnesota Pride parade in 2022.
For Adrienne, a change management consultant, June is a month "to be bold in our support, to amplify voices that have been silenced, and to fight for a world where everyone can thrive without fear of discrimination." Although the month is most visibly a time of celebration, Adrienne also notes, "It reminds us that the struggle for equality is far from over. It prompts us to challenge societal norms, to question prejudices, and to advocate for policies that protect and uplift marginalized communities."
And for Gene, a staff engineer, "Pride Month…is recognizing the bravery of living authentically, even when it isn't a big deal." She shared that as a devout Catholic, the month is also a time to celebrate her faith. "I believe that we all can open our hearts to other people," said Gene. "The world will be a much better place. To be known is to be loved."