Community Commitment
September 14, 2022
The eloquent simplicity of Ben Cooper, a corporate painter

The prints still circulate through antique shops and on eBay – and probably will for years to come.
Although the offer of free prints was discontinued in 1976, the work by former employee Ben Cooper, a senior artist who worked for the company from 1953 to 1986, is still sought after throughout Colorado and beyond.
The idea involved a series of color ads, printed in a variety of publications in the company's service territory, including the Denver Post's Sunday Empire Magazine. At one point, 140 different publications were running the ads. Each piece featured one of Cooper's paintings of either wildlife or an Old West scene.
"For 13 years, I couldn't take a vacation without carrying along my canvas and paints," Cooper said in a past company interview. "It was just amazing how the idea took off."
Cooper, who died in 2014 at age 83, started his career reading meters in 1953. But his real love was art, and he moved to the company's advertising department in the late 1950s.
In 1964, the concept of an institutional ad campaign using fine art surfaced. The idea initially focused on ads featuring paintings of wildlife around company facilities. Published with each painting was a complimentary copy block, produced by writers in the ad department.
"We had to have something to catch readers' interest, so we chose wildlife," Cooper said. "But soon we expanded it to include the history of the state. My ranch gave me plenty of subjects to paint, and before long, people were coming to me with all kinds of ideas."
To measure readership of the ads, the company decided to run a coupon every six months, offering a free set of four of Cooper's prints to anyone who mailed in the coupon. Determining how many sets of the 12-by-14-inch prints to have on hand soon became difficult.
Initially, a thousand sets were printed. They were gone in days. Eventually, 20,000 requests for the prints would come in with each coupon offer. A mailing service had to be hired to handle the shipping.
"After the coupon was printed on a Sunday, we would get about 2,000 letters the next Tuesday or Wednesday," Cooper said. "We'd just pile them in wastebaskets until the mailing service came and got them.
"But with the coupons would come letters from people pouring their hearts out about their memories of the past," he added. "It was amazing."
At one point, Cooper secretly took a photo of his father unloading hay in the winter. The eventual painting surprised his father one Sunday morning in the company's ad in the Denver Post.
Another painting featured Old Mose, a famous grizzly bear that ended up with a reward on his head after years of killing cattle, sheep, horses and even a hunter in the Sangre de Cristo Mountains of Colorado. Mose weighed an estimated 1,300 pounds. His hide measured 10 feet in length and was nearly as wide.
A famous hunter from Idaho finally shot Old Mose in 1904, and Cooper's painting captured the scene, complete with dogs circling at the foot of an angry Mose. The hide – all nearly 100 square feet of the massive bearskin – now resides in the Museum of Zoology at the University of California–Berkeley.
In 1976, the coupon offer ended. And the last of the company's western heritage ads ran in December 1978. They featured a montage of Cooper's work over the years to honor the artist.
The final ad's copy read: "There may be some rare strain of sage brush or some obscure little mountain animal peeping from pine-scented shadows that Ben Cooper hasn't seen, turned over in his mind and brought to life on canvas. But if there is, we don't know about it.
"For the past 13 years, Ben Cooper has shared his vision of Colorado's land and history with us all on these pages. It has been a vision crafted carefully and lovingly from paint, research, imagination and fascination. To those who know him, his art typifies the eloquent simplicity of Ben Cooper, the man.
"But all good things must come to an end. We will continue to communicate with you on matters of concern to us all, of course. It's just that now, as seems to be the case with change sometimes, it will be done with a little less poetry.
"We hope you've enjoyed the Ben Cooper years as much as we have. It's been special – very special."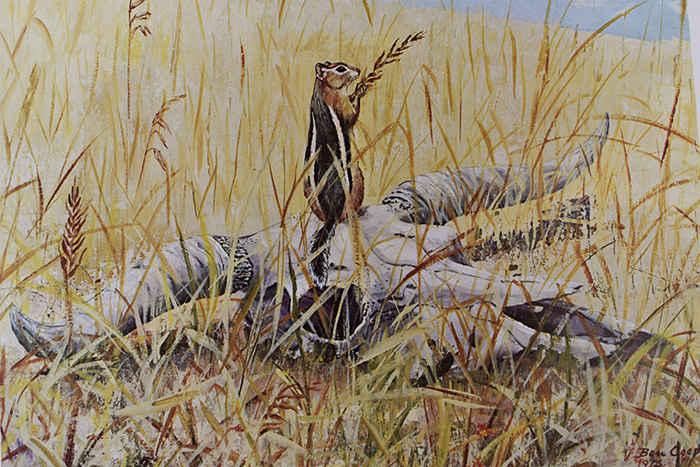 At top, Ben Cooper's painting titled "Interrupted Tranquility," done in 1978, and above, his painting titled
"Cycle," completed in 1975.