Community Commitment
September 20, 2022
Xcel Energy awarded for its commitment to service members

Tyler Turpin got the call in June 2020. He would temporarily leave his job as senior operations instructor at Xcel Energy's Monticello Nuclear Generating Station and be deployed to the Kingdom of Bahrain to serve as lieutenant commander and submarine officer with the U.S. Navy.

While Turpin anticipated the stress of day-to-day operations and the high-stakes environment of military service, one thing he didn't have to worry about was his job at Xcel Energy. And the support he has received led Turpin to nominate Xcel Energy for the Employer Support of the Guard and Reserve (ESGR) Above and Beyond award, which the company recently was awarded.

"The kind policies that Xcel Energy has with regards to Reservists and the Guard – combined with the overwhelming support that the company and the Veterans and Employees Together in Service (VETS) business resource group showed me while I was away – made it obvious that Xcel Energy deserves this award," Turpin said. "As soon as I knew it existed, I nominated the company for it."
A passion for leadership
Turpin credits the Navy for a wide breadth of training and skills that forced him to do jobs he didn't know, or even think, he could do. Leading sailors on a submarine and teaching submarining in Connecticut revealed his passion for leadership and problem solving, along with a desire for teaching others. Turpin joined the Navy wanting to work with the most advanced reactors in the U.S. military. Being in that environment and the accompanying daily challenges are what excite Turpin most about continuing to serve.

Sometimes, however, the daily stress and distance between families can bring other challenges. For Turpin, during rare moments of down time, worry crept up as he thought about his wife, Katie, at home in Maple Grove, Minnesota, who works full time as a water resource engineer. Turpin saw her facing challenges, with little he could provide beyond virtual support. Year-long deployments and weekend Navy Reserve training requirements, along with a civilian career, often create long work weeks, which can add to the frustration of lost time together.

That's where the support of his Xcel Energy team has proven especially important. The temporary absence of an individual in the training center is significant, but David Cox, operations training supervisor, said he had zero qualms about supporting Turpin during his deployment. Cox himself served 20 years on active duty as a submariner, retiring from the Navy in 2014. His training team at the plant also entails a majority of veterans, and as such, they have each other's "six" – a military term for having each other's backs.

"If you are looking to add a member to your team with experience in leadership, teamwork, strong technical skills and success in high-stress environments, Cox advises hiring managers, "then a military veteran may be what you are looking for."

According to Turpin, Cox has gone above and beyond in helping him take advantage of the Xcel Energy benefits available to National Guard and Reservists on military orders. Cox's team worked diligently in the months leading up to Turpin's deployment to ensure work assignments were accomplished and future work was fairly assigned throughout the team. On the morale front, training center colleagues and friends supported Turpin's wife, and the company's VETS business resource group sent Girl Scout cookies to his sailors and submariners.

This high level of support motivated Turpin to nominate Xcel Energy for the ESGR Above and Beyond award, he said. The award is a recognition to employers who have surpassed legal requirements by providing their Guard and Reserve employees additional non-mandated benefits, such as differential or full pay to offset lost wages, extended healthcare coverage and other similar benefits.

The ESGR presented Xcel Energy with the Above and Beyond award at the Minnesota State Fair's recent Military Appreciation Day, with Turpin, Cox and John Marshall, regional vice president of Community Relations and Foundation, present for the ceremony.

"Xcel Energy is proud of its employees who serve – and who have served – in the U.S. military," Marshall said. "As a continued ESGR partner and a military-friendly employer, we are committed to hiring talented veterans and supporting our military members back home while they are away."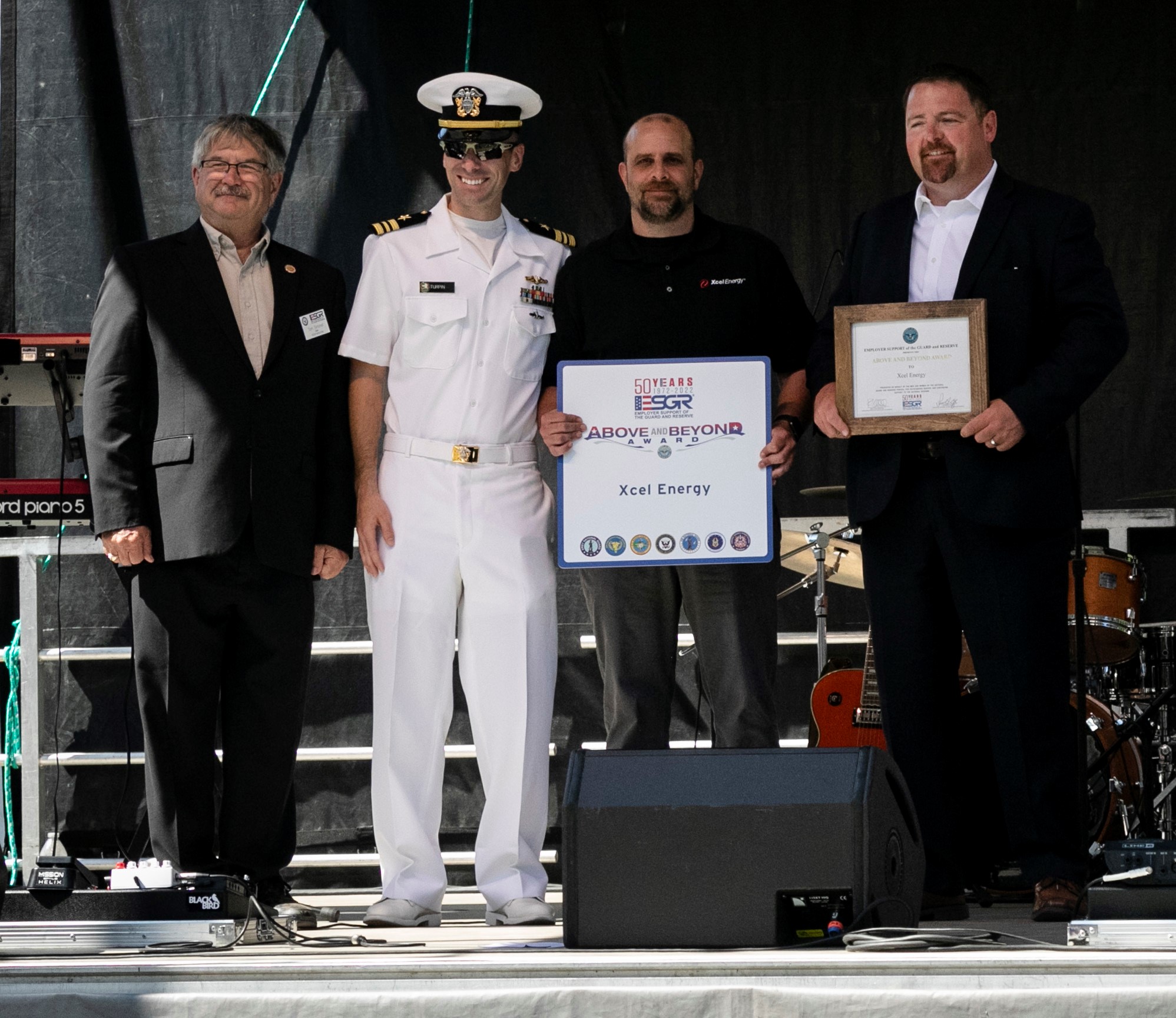 Xcel Energy receives its Above and Beyond Award during the Minnesota State Fair's recent Military
Appreciation Day. From left to right are: Bruce Cherney, volunteer support technician with the Minnesota
ESGR Committee; and Xcel Energy's Tyler Turpin, senior operations instructor; David Cox, operations
training supervisor; and John Marshall, regional vice president of Community Relations and Foundation.