Community Commitment
September 6, 2022
Volunteer PTO allows employees to give back to their communities

PTO is an acronym most employees cherish. But put a "V" in front of PTO – which stands for volunteer – and you have a whole new form of engaging and personally satisfying paid time off at Xcel Energy.
Although only some employees currently take advantage of this 40-hours-a-year benefit to date, the company's Diversity and Inclusion department is hoping that more and more join the effort in coming years.
Under the VPTO program, every employee at Xcel Energy can volunteer up to 40 hours a year at eligible organizations during normal business hours to help a myriad of community-support efforts, such as serving coffee and meals at the pay-what-you-can GraceFull Café in Colorado. That's how one employee at Xcel Energy focuses her VPTO each year.
Shirley Kagiyama-Manley, an operations data consultant, had heard about the GraceFull Café in downtown Littleton, Colorado, but didn't realize it was basically run by volunteers. At the restaurant, anyone can come in for breakfast or lunch, and the operation is based on each customer's ability to pay – from nothing to a generous donation. It wasn't long before she was volunteering at the café.
"It's convenient to where I live, it's a lot of fun, and I've always volunteered," she said. "There are so many opportunities out there, and I try to do as much as I can."
GraceFull Foundation, the café's nonprofit partner, offers "Grace in Action" meals that cover either the full or partial cost of a meal for individuals who are struggling in the Littleton community. Tips from the other patrons, along with online donations and community support, keep the organization running five days a week.
Owner Heather Greenwood came up with the idea while serving on a year-long mission overseas in Uganda with her family in 2012, after she left her job as a high school business teacher. She was inspired by the unique power of sharing meals to bring communities together and break down barriers.
Upon returning to the states, she got a job at a high-end but small Denver breakfast chain to gain experience in the restaurant industry and worked on GraceFull's business plan for two years. She and her husband, Troy, then opened GraceFull Café in May 2016 to ensure that everyone in the Littleton community had access to a fresh healthy meal, regardless of their ability to pay.
Since opening in 2016, the café and its hundreds of volunteers have served more than 61,000 Grace in Action (GIA) complementary meals and logged more than 22,700 volunteer hours. In the past year, GraceFull has served an average of 59 GIA meals daily, which is a little more than 50% of the total daily meals the café serves.
The average cost of these GIA meals is $12,112 a month. Guest donations in tips at the café register average $4,000 per month, with the remainder of funding coming from monthly recurring online donors and other community support.
Volunteers at GraceFull Café use an online system to sign up for two- or three-hour shifts involving either dishwashing, serving or food preparation. They join with the cafe's full-time employees to make the restaurant work.
"It's like a coffee shop, where everyone knows everyone else," Kagiyama-Manley said. "It's a welcoming place for everyone, no matter what your situation.
"Our VPTO program helps us as Xcel Energy employees, and the company in general, give back to the community," she said. "It's a great opportunity, and if you're volunteering anyway, why not take advantage of it?"
For more information about the GraceFull Café, visit gracefullcafe.com.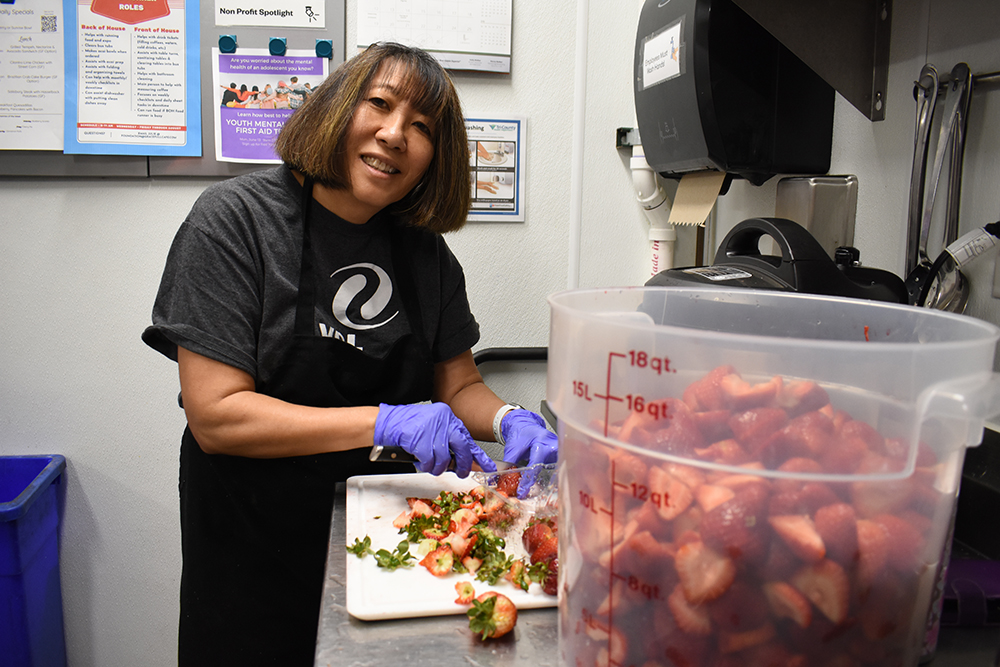 Shirley Kagiyama-Manley cuts up strawberries during a volunteer shift at the GraceFull Café.