Operational Excellence
July 6, 2023
Xcel Energy receives award for outstanding storm restoration
Honor recognizes operational excellence following the 2023 April Fools' Day snowstorm

Xcel Energy was recognized by the Edison Electric Institute (EEI) with the Emergency Recovery Award for its excellent storm response and restoration efforts following the April Fools' Day snowstorm that swept the Upper Midwest this spring. The company was presented with the award at the annual EEI conference in June.

Approximately 300,000 customers lost power as a result of the April 1st snowstorm. Over 1,200 employees and contractors were deployed from 10 states to help restore power to the 180,000 customers who suffered sustained outages. Our damage assessment teams in Minnesota and Wisconsin provided our crews with valuable information to make restoration efforts efficient as crews made critical repairs.

"Ensuring the safety of our customers, communities, and crews is our industry's top priority. Safety is especially critical during severe storms and extreme weather events, such as hurricanes, tornadoes, and winter storms," said EEI President and CEO Tom Kuhn. "I commend Xcel Energy's commitment to restoring service for its customers safely and efficiently under challenging conditions following the April Fools' Day snowstorm in the Upper Midwest. Xcel Energy and its storm response team are extremely deserving of this national recognition, and I am honored to present them with this well-earned recovery award."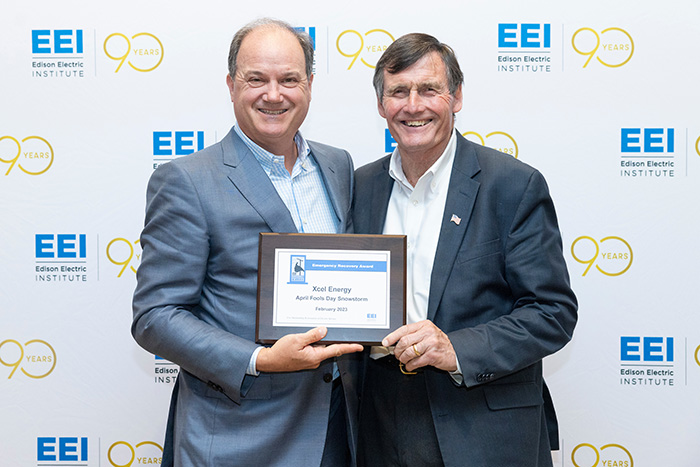 Xcel Energy chairman, president and CEO Bob Frenzel accepting the Emergency Recovery Award at the annual Edison Electric Institute (EEI) conference in June.
The powerful low-pressure system brought a barrage of rain, thunderstorms, sleet, 50 mph winds and heavy snow to Minnesota and Wisconsin from March 30 to April 1. The storm resulted in widespread power outages, tree and limb damage, and new daily precipitation records in the Twin Cities and Rochester. The same system also produced tornadoes and severe weather in neighboring Iowa. The storm left the largest snow totals in the 8- to 12-inch range in portions of west-central, central, east-central and southern Minnesota, with some areas reporting up to 13 inches of snow.

EEI recognizes member companies that put forth "outstanding efforts to restore service promptly to the public following a storm or other disaster." Learn more at EEI.org.