Operational Excellence
June 29, 2023
Welcoming the next generation of nuclear energy leaders
Miss America and influencer Isodope visit Minneapolis to promote nuclear's promise for the future

As the North American Young Generation in Nuclear (NAYGN) met in Minneapolis for their annual conference earlier this month, the next wave of nuclear energy leaders gathered to promote nuclear as a critical energy solution to climate change and pollution in the 21st century.
Grace Stanke, better known as Miss America 2023 and a nuclear engineer from Wisconsin, led the way, alongside social media influencer and Brazilian model Isabelle Boemeke, aka "Isodope." Together the two are working to dispel myths about nuclear energy while inspiring women everywhere to pursue their professional goals, especially in STEM fields.
Stanke uses her platform as Miss America to share her passion for nuclear science in media appearances and recently on the Coming Clean podcast with Benji Backer. "I can utilize this opportunity, this one year I have, to go on and not necessarily change the entire world, but to have the one conversation with the one person and change their world," she told Backer.
Boemeke reaches young people through her blog and social media accounts to educate and advocate for nuclear's role in a clean energy future. "I wanted to make nuclear energy cool," Boemeke told the audience at her 2022 TED Talk. "Inspired by internet culture, I created a digital version of me and called her Isodope. She's sassy, a little weird, but she always tells the truth."
As leaders of a new generation of nuclear energy advocates, the two are encouraging clean energy champions to be vocal and visible in helping the world see the immense benefits of existing and new nuclear technologies.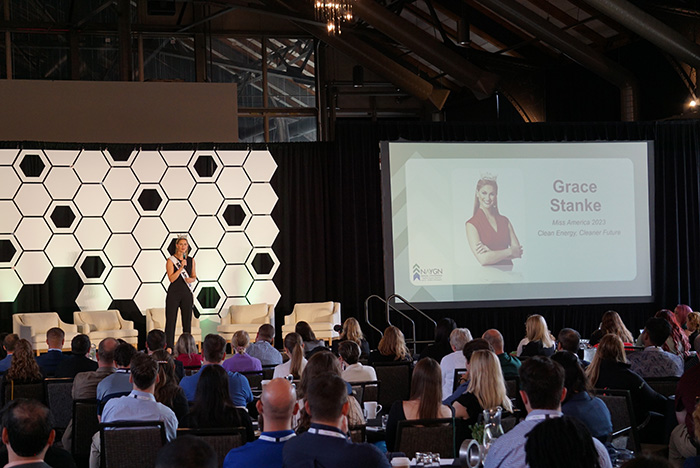 Grace Stanke, Miss America 2023, addressing the next generation of nuclear leaders in Minneapolis on June 22.
In her conference remarks, Stanke said she draws strength from the teamwork and community of the nuclear industry. She urged that community to tell its own great story with kindness and confidence, noting that opinions on nuclear energy are improving and that person-to-person communication is where trust is built most reliably.

Boemeke made a similar point, noting that "if you agree that we need nuclear for prosperity and a healthier planet, you have to speak up." Their message is resonating with the next generation of nuclear leaders, such as Cahlor Stedman, a control room supervisor in-training at Xcel Energy.

"Nuclear power has been a cornerstone of the United States' electricity system for over half a century," said Stedman. "For 50 years, the Monticello and Prairie Island plants in Minnesota have reliably kept families in my home state comfortable and connected. Minnesota's nuclear plants have provided thousands of well-paying jobs and contributed millions of dollars to our communities, all while avoiding the emission of 10 million metric tons of CO2 each and every year, which I'd say is pretty darn cool."

The future of nuclear in Minnesota is as important as its past. Extending the operation of both of Minnesota's nuclear plants is central to meeting Minnesota's goal of zero emissions electricity by 2040, which is why Xcel Energy has requested an extended operating license for Monticello and is expecting to do the same for Prairie Island.

The NAYGN conference participants had an immediate chance to act on the messages they were hearing. After 120 of them toured Xcel Energy's two nuclear plants to get a closer look at how more than a quarter of Minnesota's electricity is generated carbon-free, the group was featured at the Minnesota Twins game on June 21, throwing out the ceremonial first pitch and engaging thousands of fans from an informational kiosk behind home plate.

The group warmly welcomes new members. If you or someone you know might be interested, please visit the NAYGN website for details. Nuclear energy offers a wide variety of good paying jobs across the country, and NAYGN is a great place to learn more.