Community Commitment
May 24, 2023
Newly trained lineworkers ready to join the clean energy transition
Graduates completed the Energy Careers Academy program in Minnesota this spring

After nine months of training in the classroom and the field, 11 students from diverse communities and backgrounds in the Twin Cities metro area have earned the skills to pursue promising careers in the energy industry.

The graduating class, part of the Energy Careers Academy program developed by Minnesota State Community and Technical College, accepted a rare opportunity to receive hands-on training in a busy metropolitan area. By contrast, many lineworker training programs require students to be available in or travel to rural areas to practice the physical and knowledge-based skills required to climb poles, maintain lines, restore communities after outages and more.

Xcel Energy was a sponsor of the program and provided its metro-based facilities for training that went beyond the classroom. Now, some of the graduates are already pursuing attractive careers in the energy industry.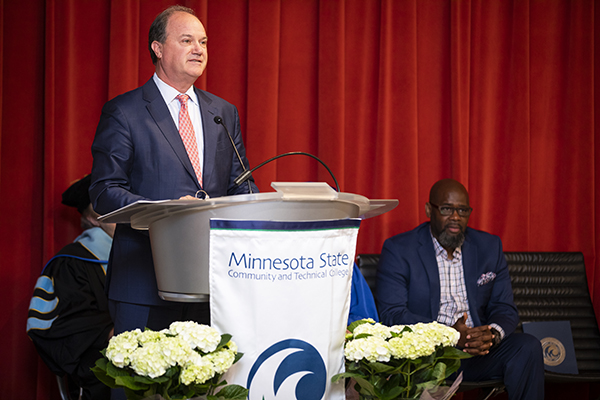 Xcel Energy chairman, president and CEO Bob Frenzel spoke at the Energy Careers Academy graduation in Minneapolis on May 8, 2023.
Photo by TJ Turner Photographs.
"These graduates join the ranks of our critical frontline workers who connect our communities to the energy that powers business, education and day-to-day life," said Bob Frenzel, chairman, president and CEO of Xcel Energy. "Graduates of the Energy Careers Academy will play a key role in leading an equitable clean energy transition."

These lineworkers join the energy industry at an exciting time, as companies, consumers, regulating agencies and others continue seeing strides in how clean, reliable energy is generated, distributed and used. To learn more about how Xcel Energy is building the next generation of energy workers, read about our career and scholarship programs.